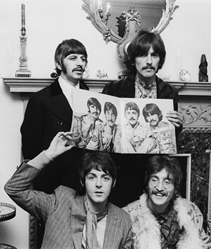 One of the great perks of being a Beatles buff is that the band left plenty of unalloyed masterpieces, and a couple of dark horses, that make for a lot of fun arguments you can have in your head, changing course when need be and reversing field like your last series of thoughts existed for the sole purpose of creating totally oppositional ones. That's a pretty Beatle-y conceit, as if you've passed through that Sea of Holes in Yellow Submarine, with your previously held opinions shape-shifting in the process.
It's not the case now, but as we mark the 50th anniversary of the June 2, 1967 release of Sgt. Pepper's Lonely Hearts Club Band, it's worth noting that from the time of that release until, say, the mid-1990s, this was the album you were told was, far and away, the best album that had ever been released. To question this was to go against a veritable rock and roll Commandment in which it was writ: The Band Leader Hereforth Known as Sgt. Pepper Presides Over the Greatest Musical Platter There Ever Shall Be.
As a kid, I spent an ungodly amount of time ranking The Beatles' albums in my head. I never had Pepper first, but I always had a qualifier for my argument, which we shall come to. I started getting into the band hardcore in the early 1990s, so I was there to watch this shift away from Pepper and toward Revolver and Rubber Soul, the two albums that preceded it. A lot of that shift seemed to come from the UK, with magazines like the solid Q and the stolid MOJO really stumping for those earlier albums.
By: Colin Fleming
Source: The Daily Beast