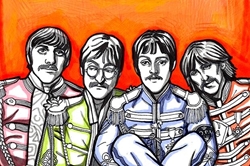 Beatles fans, get your credit cards ready: On May 26, the Fab Four is unleashing a lavish revamp of 1967's "Sgt. Pepper's Lonely Hearts Club Band" in honor of the landmark album's 50th anniversary. Among the notable features of the reissue are outtakes and alternate versions of songs from the vaults — including the "Pepper"-era double-A-side single "Penny Lane" and "Strawberry Fields Forever" — and a new stereo mix of the record that producers claim buffs up the painstaking vibe of the original mono mix.
"They were trying to create this immersive world that the stereo didn't have," Giles Martin, the man responsible for the new stereo mix (and, incidentally, the son of the late Beatles producer George Martin), recently told Rolling Stone about the original mono mixing sessions. "Nobody paid much attention to the stereo mix. What we did [today] was work out what they were doing in the mono mix and apply it to stereo."
It's a no-brainer that the Beatles team would choose to release a deluxe reissue of "Sgt. Pepper's Lonely Hearts Club Band." The LP has sold over 11 million copies in the U.S. alone and remains one of the band's most beloved records.
From an artistic standpoint, the album ushered in the Beatles' most expansive and experimental phase, and featured even more studio innovations. "On 'Pepper,' it was like starting over from scratch, getting down to the individual tonalities of the instruments and changing them," engineer Geoff Emerick told Guitar World. "They didn't want a guitar to sound like a guitar anymore. They didn't want anything to sound like what it was."
By: Annie Zaleski
Source: Salon