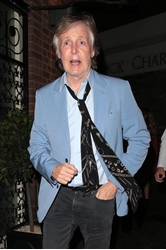 Come together
He often fantasises of getting the old band back together - but it never runs smoothly
ROCKER Sir Paul McCartney has dreams of a Beatles reunion - but admits the fantasy gigs always end up in disaster.
The music legend, 76, says he often fantasises about reuniting onstage with Ringo Starr and the late John Lennon and George Harrison, although the performances never go to plan.
Paul often dreams about getting the old band back together
He said: "We're playing a dreadful gig somewhere, and the audience are walking out. That happens a lot.
"But it's kinda nice – I get to meet John and George. So that's kinda good."
Source: Adam Nutburn/thesun.co.uk