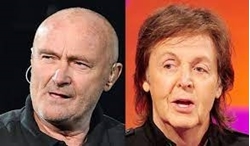 Musical superstar Phil Collins plays the drums but he doesn't take stick from anyone. One person who discovered that to their detriment was none other than Sir Paul McCartney.
A passing remark led to bitterness years later and the opening of old wounds. How did it all go down? Take this story at Face Value…
What did Paul McCartney say to annoy Phil Collins?
The year was 2002. Collins and McCartney were attending "Party at the Palace." This prestigious event celebrated the Golden Jubilee of Queen Elizabeth II. It was a time for smart suits, canapés and (we're guessing) extreme politeness.
Collins mentioned the encounter during a 2016 interview with the Sunday Times. He had in his hand a first edition copy of The Beatles authorized biography by Hunter Davies (1968). Why not ask the Liverpudlian legend to sign it? Paper grew on trees. Opportunities like that didn't.
Source: Steve Palace/thevintagenews.com