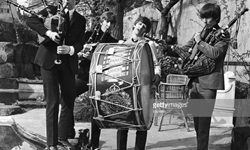 His gig at the Hydro, in Glasgow 10 days ago will be long remembered by those lucky enough to get a ticket.
But the star was thinking of another gig, a concert 58 years before and the first time his band The Silver Beetles played north of the border.
It was May 20, 1960, when McCartney, who had travelled north with John Lennon and George Harrison, hit the stage in Alloa.
The trio split their £60 fee with two mates – bassist Stuart Sutcliffe and drummer Tommy Moore – as they took on the job of backing band for Liverpool heartthrob singer, Johnny Gentle.
McCartney, then an aspiring 17-year-old musician, had to get permission from his father to travel to Scotland because he was supposed to be at home studying for his exams.
Backstage at the Hydro, in his only Scottish interview, he revealed it was the show in Alloa which ignited his lifelong love of Scotland.
Read more: Paul McCartney thrilled late wife's photographs going on display in Glasgow
Macca said: "We'd never really travelled anywhere. We'd pretty much always been in Liverpool, maybe only ever taking a little train trip to Southport, half an hour away.
"So coming up to Scotland was like travelling to a foreign country.
Source: Billy Sloan/sundaypost.com