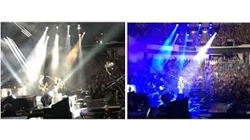 BOSSIER CITY, La. - The parking lots, as well as grassy area across the street from CenturyLink arena in Bossier City began filling up with cars with license plates from surrounding states early Saturday afternoon, as former Beatles and Wings member-turned-solo artist Paul McCartney kicked off his United States tour Saturday.
When the doors opened at 6:30 p.m., people began flowing into the arena, which was filled to capacity before the official 8 p.m. start time.
But when Sir Paul and his band bounded up the steps to the stage around 25 minutes late, no one seemed to care, as the 75-year-old rocker immediately got the huge crowd on their feet with an elaborate, yet pure, rendition of the Beatles classic 1964 hit, "Hard Days Night."
Throughout the evening, McCartney interspersed early Beatles tunes with those from his years with Wings, and many in the audience never sat down during the almost three-hour concert…singing along with many of the songs.
Though many people in the audience clearly remembered the Beatles early days, some only remembered Wings, the band McCartney and his late wife Linda formed after he left the Beatles in 1970.
And others, obviously grandchildren of the original Beatles' fans, were there for the sheer love of pure rock and roll.
McCartney asked the crowd how many there were from Bossier City, and got a rousing response – but then, when he asked how many were not from Bossier City, the response became thunderous.
Source: Nancy Cook