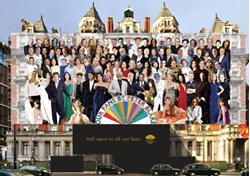 The artist, who grew up in Kent, has created a collage for the Madarin Oriental Hyde Park hotel
Artist Sir Peter Blake, best known for his work designing the cover of The Beatles' Sgt Pepper album cover, has unveiled his latest commission - a giant collage across the front of a swanky five-star London hotel.
The Dartford-born artist, dubbed the Godfather of British pop art, was commissioned by the Mandarin Oriental Hotel Group to create a collage which will cover its hotel in Hyde Park during part of a major renovation project. It will cover in part the hotel's iconic facade. The huge work, entitled Our Fans, will be the largest he has ever created and is a Sgt Pepper-esque collage of 100 famous fances who have regularly stayed at the hotel.
The star-studded line-up will include the likes of Morgan Freeman, Helen Mirren and Joanna Lumley. The artist, who attended Gravesend School of Art before securing a place at the Royal College of Art in London in 1956, said: "Some of my first works were collages of crowds of people; this piece is in the spirit of Sgt Pepper's Lonely Hearts Club Band album."
By: Kent Britcher
Source: Kent News