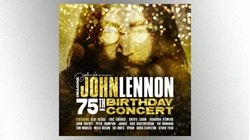 Blackbird PresentsOn December 5, 2015, stars from various musical genres, including rock legends John Fogerty, Steven Tyler and Peter Frampton, came together in New York City to tape a concert special commemorating what would have been John Lennon's 75th birthday. The show, Imagine: John Lennon 75th Birthday Concert, originally aired that month on AMC, and now a CD, DVD and two-LP set documenting the event are scheduled to be released starting in January.
The concert, which was hosted by actor Kevin Bacon, includes performances of a variety of memorable songs Lennon wrote or co-wrote for The Beatles and tunes from his solo career. Among the many other artists who took part in the show were Sheryl Crow, Willie Nelson, Kris Kristofferson, Train's Pat Monahan, The Killers' Brandon Flowers, Rage Against the Machine's Tom Morello, Aloe Blacc, The Roots and Eric Church.
Highlights from the concert included Fogerty performing "Give Peace a Chance" and "In My Life," Tyler singing "Come Together" and teaming up with Church on a rendition of "Revolution," and Frampton playing "Norwegian Wood" and duetting with Crow and Aloe Blacc on Lennon's holiday classic "Happy Xmas (War Is Over)." For the finale, most of the show's cast came together for a rousing version of "All You Need Is Love."
Source: ABC News Radio