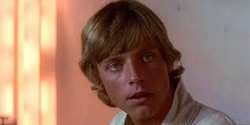 Star Wars is one of the biggest movie franchises of all time, with entire generations of fans brought up on the galaxy far, far away. Said fandom is extremely passionate about the property, sometimes to a fault. Mark Hamill has been the hero of the franchise for decades, and knows fanboys well. And the beloved actor recently revealed a time he geeked out meeting late Beatles icon George Harrison.
Given his iconic tenure as Luke Skywalker in the Star Wars franchise, Mark Hamill has been able to meet a ton of celebrities throughout his long career. This includes meeting members of the legendary rock band The Beatles. While guitarist and songwriter George Harrison died back in 2001, Hamill had the honor of meeting him first, and shared that story with the general public. In his words,
Honestly, same. Those of us who have been lucky to meet a celebrity know the panic and excitement that can sometimes occur. And even though Mark Hamill is famous himself, that didn't stop him from going full fanboy when meeting George Harrison. But if you're going to meet a Beatle in the flesh, what other reaction should you have? They're known for having screaming fans, after all.
Source: Corey Chichizola