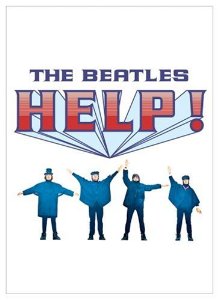 LONDON--(BUSINESS WIRE)--The Beatles' second feature film, 1965's Help!, is on the way on Blu-ray. On June 24 (June 25 in North America), Help! makes its eagerly awaited Blu-ray debut in a single-disc package pairing the digitally restored film and 5.1 soundtrack with an hour of extra features, including a 30-minute documentary about the making of the film, memories of the cast and crew, an in-depth look at the restoration process, an outtake scene, and original theatrical trailers and radio spots. An introduction by the film's director, Richard Lester, and an appreciation by Martin Scorsese are included in the Blu-ray's booklet.
"You've Got To Hide Your Love Away"
Help!'s Blu-ray edition follows the 2012 release of The Beatles' digitally restored Yellow Submarine and Magical Mystery Tour feature films on Blu-ray, DVD and iTunes with extensive extras. Help!'s restoration for its 2007 DVD debut wowed viewers.
Source: Business Wire