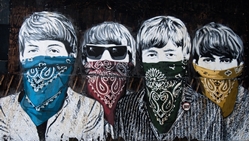 They might've come from Liverpool, but The Beatles certainly left their mark all over London. Here are some of our favourite London locations connected to the band: take a trip around the sights, and indulge in your very own Magical Mystery Tour of the capital.

1. Dodge the cars at Abbey Road Studios and crossing
Start your day at what's probably the most famous London Beatles landmark: Abbey Road.
The Fab Four didn't just record their Abbey Road album here; this was the location the band recorded nearly all their albums and singles from 1962 to 1970 at this famous address.
Take care if you stop for photos on that iconic pelican crossing: cars don't like stopping for the inevitable hoards of tourists all doing exactly the same thing...
2. Sample the delights at the Beatles Coffee Shop
If you've successfully swerved the traffic in the name of Instagram perfection, celebrate with a cup of coffee from The Beatles Coffee Shop at St John's Wood station.
By: Zoe Craig
Source: Londonist