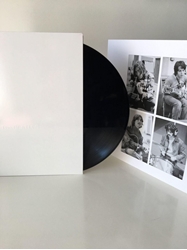 "The White Album" was always my favorite.
I discovered it in 1995 as an 11-year-old, swept up in the mania around The Beatles Anthology project, falling deeply in love with the band, and with music, for the first time.
As I wrote for the "Wall Street Journal" a few weeks ago, "The White Album" was chaotic where its predecessor was kaleidoscopic, and I thrilled at the chaos, even then.
I loved that the album was sweet and vicious, funny and freaky, earnest and sardonic, simple and complex by turns, a smorgasbord of tones and textures and subject matter the way only a double album can hope to be: a ditty about a sheepdog here, a plaintive hymn to God there, a mindless rocker that had something to do with a monkey.
There's the metatextual mischief of "Glass Onion" (the darker underbelly of the Lewis Carroll landscapes John had explored with "Lucy in the Sky with Diamonds"), the mercurial mood-shifts of "Happiness Is A Warm Gun," the caressing sweetness of "I Will" that followed on from the snarling lasciviousness of "Why don't we do it in the road?" And George's offerings were at a whole new level: the sublimity of "While My Guitar Gently Weeps," silliness of "Piggies" and "Savoy Truffle" and Garden-of-Gethsemane intensity of "Long, Long, Long."
Source: Darryn King/forbes.com