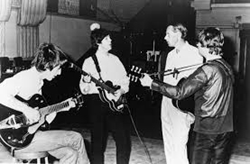 When The Beatles kicked off the sessions for Sgt. Pepper's Lonely Hearts Club Band, they had decided they would become a studio band from there on out. The ill-fated Fab Four tour of 1966 convinced them that the "circus" routine their concerts had become wasn't worth it anymore.
With live shows behind them, the band could focus solely on recording the best music they could make. And they'd never have to recreate any of the songs on stage. That was a good thing, considering a masterpiece like "A Day in the Life" would have been next-to-impossible to play live.
But that trend didn't actually start with 1967's Sgt. Pepper. The year before, prior to embarking on that final tour, the band had recorded its most complex work to date on Revolver (1966). And though they completed that album before the tour they never played any Revolver songs live.
Source: cheatsheet.com