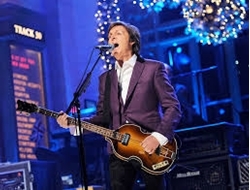 From playing beloved SNL characters like Devin and Stefon to starring as a hitman in his HBO dark comedy series Barry, it's fair to assume that Bill Hader is a confident and comfortable performer. But that would be a mistake! Indeed, Hader has suffered from relentless stage fright throughout his prolific career.
In this Off Camera video, the funnyman reveals a surprisingly serious side of himself; he admits, "I'm a really anxious person. I have like legit anxiety. I'm hosting 'Saturday Night Live' next week, and I'm going to be a wreck–like I have to fully prepare myself."
His nerves have caused flu-like symptoms, dizziness, dread, and a sense that his arms are heavy. Overwhelmed, he's paced around backstage or sat petrified in chairs waiting for his cue to go onstage. In his recent SNL opening monologue, Hader told the audience, "I was on [SNL] for eight seasons … and I was nervous for every one of them!" Once the legendary Beatles rock star, Paul McCartney, observed Hader struggling backstage at SNL and advised him to drink water or tea to ease his nerves.
Source: castingfrontier.com