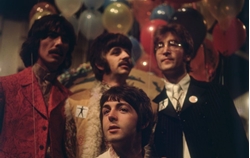 Oasis, Pink Floyd and Michael Jackson were also close contenders
The Beatles' 'Sgt. Pepper's Lonely Hearts Club Band' has been named Britain's favourite ever studio album, in a special countdown to mark National Album Day on October 13th.
The Fab Four's eighth studio album was the only release from the 1960s to make the list, which was compiled by the Official Charts Company.
The albums were ranked using a combination of physical sales, downloads and streams in order to determine the British public's definitive 'favourite'.
'Sgt. Peppers' topped the chart with 5.34 million combined sales, edging out Adele's '21' which came second with 5.11 million, and Oasis' '(What's The Story) Morning Glory' with 4.94 million.
Also in the top 10 were Pink Floyd's 'Dark Side Of The Moon', Fleetwood Mac's 'Rumours' and Amy Winehouse's 'Back To Black'.
Source: Patrick Clarke/nme.com