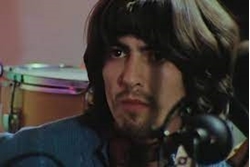 George Harrison was known as the quiet Beatle, and sometimes also wanted to be invisible.
"Beatle George Harrison, above, is due in court here today to answer assault charges," John Lennon reads from a newspaper in a scene in Peter Jackson's The Beatles: Get Back. "Harrison is accused of assaulting a photographer last May as he and Beatle Ringo Starr left a nightclub."
The accused looks fairly bewildered, as did much of the audience. The story intermittently creeps back into the documentary, making its presence known while Harrison largely ignores it and moves on.
In The Beatles: Get Back, Jackson shows how news items about The Beatles have a tendency to take on lives of their own. Paul McCartney improvises his version of Michael Housego's article "The End of a Beautiful Friendship," about Harrison quitting the band, while the rest of the group rolls through old time rock and roll.
Source: Tony Sokol/denofgeek.com