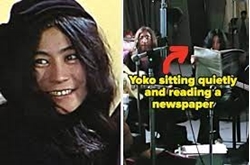 During Thanksgiving weekend, Disney + released a new three-part documentary after the last Beatles recording sessions before their disbandment, titled simply The Beatles: Get Back.

The three-part documentary shows rare behind-the-scenes footage of John Lennon, Paul McCartney, George Harrison, and Ringo Starr recording their last songs together as a band in 1969.

And it also sheds a whole new light on the troubled narrative that has been around since 1970: Yoko Ono breaking up with the Beatles. There are several moments throughout the 7.8 hours of footage that deconstructs this misogynistic theory and instead proves that it is unpopular – the Beatles were actually responsible for the dissolution of the Beatles.
Source: creatorsempire.com