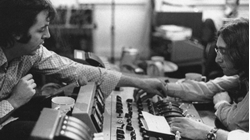 Turn me on dead man.
Long before conspiracy-minded rock fans screwed up their needles playing records backwards, to paraphrase George Carlin, The Beatles' "Revolution 9" was a spooky experimental tour de force of hidden meaning. Marketed as one of the first boy bands, the mop topped sensations were best known for being at the toppermost of the pops. The ultimate pop band was also at the forefront of the rising underground scene.
While The Beatles are best known for writing love songs, not only catchy romantic ditties, but songs about the larger concept of love, they had a very dark side to their output that defied easy categories. John Lennon could be particularly scary. He forced George Harrison to arrange a guitar solo that had to sound better backwards on "I'm only Sleeping," and shoveled out frightening amounts of ziti in the film Magical Mystery Tour. He always needed more.
Source: denofgeek.com