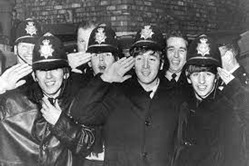 THE BEATLES refused to play their music at a gig in 1964 after they learned about segregation in their audience, prompting Paul McCartney and John Lennon to hit out at the idea. The band went on to draft a contract preventing them from being forced to perform to separated crowds from then on.
In 1964 the segregation of Black and white people was still rife in the USA. Although Black performers, such as The Supremes, were becoming more popular and accepted at the time, racism was still prevalent. The Beatles fought alongside the civil rights movement when they arrived at their gig at the Gator Bowl in Jacksonville, Florida, USA.
Once the band learned they would be playing to a segregated crowd, they refused to get on stage.
Source: Callum Crumlish/express.co.uk