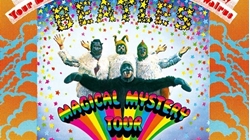 "Magical Mystery Tour" by The Beatles.
When many of us hear the words "Magical Mystery Tour" we think of The Beatles' quirky and critically panned film.
True, the 1967 film, created for BBC Television, is not the best example of the band's genius. It's almost unfortunate that it has to be associated with its soundtrack because the music is actually quite good. While it's rarely listed among the band's top albums, "Magical Mystery Tour" is certainly up there with The Beatles' best work.
And like "Sgt. Pepper's Lonely Hearts Club Band," it is also celebrating a 50th anniversary this year.
"While it's rarely listed among the band's top albums, 'Magical Mystery Tour' is certainly up there with The Beatles' best work."
Source: The Spectrum