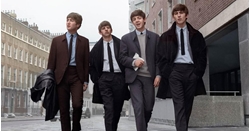 Imagine there's no Beatles… it's actually pretty hard, isn't it, given their huge influence on pop?
New movie Yesterday does just that, though, telling the story of one man who has an accident and wakes up in a kind of alternate reality where the Beatles never existed, and only he can remember their songs.
The film has sparked new interest in the Beatles' colossal back catalogue, which takes in 38 Top 40 hits, of which 28 went Top 10, with 17 of those going to Number 1. Six of their songs are million-sellers, but when it comes to the digital age, how do those hits hold up? Look back at every Beatles hit single and album in their Official Chart archive
We looked at the Fab Four's most played songs on streaming services since streams began to be counted toward the chart in 2014 and, brilliantly, there's a HUGE shock at the top.
Source: Justin Myers/officialcharts.com