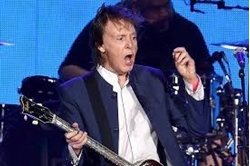 During a recent interview made by PaulMcCartney.com editors, The Beatles bassist Paul McCartney has revealed the untold story of his very special performance with Professor Longhair.
He also revealed that why Professor Longhair was invited to play. Here's the story:
"He had this great style, this kind of rolling piano style. And he was singing this song called 'Tipitina', which is like one of his hits. He's got this very interesting vocal sound, it was almost like a yodel. A funny little break in his voice… [Impersonates Professor Longhair singing 'Tipitina']. That's a very bad impression of it… "
Interviewer said:
"So you saw him play live?"
Paul responded:
"Yeah, we saw him live. We had been down to a club to see him. It was like, 'Wow, great! Cool guy!' So we just loved him and we invited him around the studio …because I was ripping him off! I just loved the style so much that I composed something called 'My Carnival' and it's got the same riff, basically, that he plays… I just couldn't play it as well!
Source: Feyyaz Ustaer/metalheadzone.com