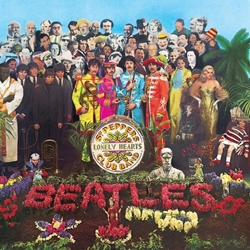 The Beatles are reportedly readying a 50th anniversary release of their landmark album "Sgt. Pepper's Lonely Hearts Club Band."
While no official announcement has been made, the band's websitefeatures four color bars matching the "Sgt. Pepper" uniforms worn by the Fab Four on the cover of that album, which was released on June 1, 1967.
Britain's The Times, citing sources at The Beatles' Apple Records, said the re-release will include "Strawberry Fields Forever" and "Penny Lane" as bonus tracks. The songs were recorded during the same sessions as the songs on the "Sgt. Pepper" album, but were released four months earlier as a double A-sided single.
Decades later, producer George Martin said it was a mistake to have not included those two songs on the album.
Keith Allison, former bassist for Paul Revere & the Raiders bassist, noted on Facebook that he heard an advance copy of the remastered "Sgt. Pepper" album while visiting Beatle Ringo Starr a few month ago
By: Ray Kelly
Source: Mass Live