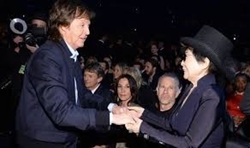 When The Beatles were in the studio, Paul McCartney was most often the one driving everyone nuts during the recording process. That was certainly the case with "Maxwell's Silver Hammer," the Abbey Road track the other Beatles came to despise.
Paul's obsession with getting a recording just right was the thing that got under his bandmates' skin. During the White Album sessions, his endless tweaking of "Ob-La-Di, Ob-La-Da" annoyed everyone involved — even the typically unflappable George Martin.
By most accounts, John Lennon had a different approach in the studio. John could be downright impatient when it came to recording his songs. In one case, he was willing to accept a Ringo drum part he disliked simply to move the process along. (Ringo later fixed it on his own.)
But John claimed the band (led by Paul) took a different tack when recording his tunes. He described an "atmosphere of casualness" he never noticed while recording Paul's songs. And he said Paul "subconsciously tried to destroy" some of his greatest work.
Source: cheatsheet.com