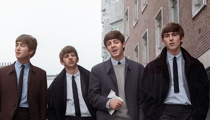 The Beatles have topped a list of artists whose music is not being taken down from file-sharing websites (or at least not effectively) which has been complied by anti-piracy service MUSO.
As previously reported, MUSO provides services to help independent labels, including Beggars Group, Demon Music Group and Essential Music & Marketing, to monitor illegally shared files online and issue takedown notices for them. The company compiled its top ten by monitoring websites which are compliant with its takedown requests (so missed out the more bullish likes of The Pirate Bay, et al), thus meaning that the illegal files counted could easily be removed. Coming in first, The Beatles had 187,687 files available illegally on the sites surveyed, over 115,000 more than the number two act,
Listen to the Audio Version of this News Story

Read more on this story.......
Source: Complete Music Update