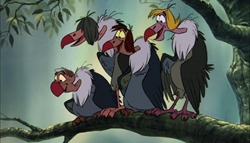 During production on Disney's 1967 animated adaptation of Rudyard Kipling's The Jungle Book, filmmakers came up with a rather ingenious cameo suited to the world's biggest band; the one, and only, The Beatles.
John Lennon, Paul McCartney, George Harrison, and Ringo Starr would voice a quartet of vultures fitted with mop top hairstyles, crooning the charming number, "That's What Friends Are For". Except, those plans appear not to have come to fruition; due either to clashing schedules or, as rumours have it, Lennon's own refusal to partake in the gag.
Supposedly, Lennon vetoed the appearance and retorted to band manager Brian Epstein that he should tell Disney they'd be better off hiring Elvis Presley instead. The final film instead features the vultures in mock-Liverpudlian accents, voiced by J. Pat O'Malley, Digby Wolfe, Lord Tim Hudson, and Chat Stuart; with the more Beatles-influenced number reshaped into a timeless barbershop quartet.
Now, it looks as if Jon Favreau attempted to reclaim such a missed opportunity; and was once more met with a closed door. The director of the newest version of The Jungle Book claims he tried to get McCartney and Starr to cameo as the vultures, but wasn't able to secure the iconic musicians.
By: Clarisse Loughrey
Source: The Independent