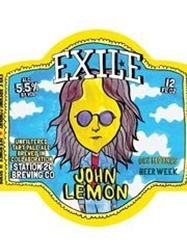 Artwork for "John Lemon Tart Pale Ale," a collaboration brew from Des Moines-based Exile Brewing Co. and Denver's Station 26 Brewing Co. (Photo: Ramona Muse Lambert/Special to the Register)
The beer isn't the first from Exile to don the name of a dead idol. Shortly after the death of David Bowie in 2016 the brewery launched "The Rise of Ziggy Sourdust," a dark Berliner-Style Weisse with chocolate and sour cherry that can be found in bottles or on tap.
A John Lemon launch party is scheduled for 4 p.m. on June 9 at the Exile taproom, 1514 Walnut St. Starting June 13, a limited supply of the beer will be available in bottles and kegs at central and eastern Iowa restaurants, bars and grocery retailers.
Des Moines Beer Week, founded in 2014, features a number of craft beer-related events across the metro. Self-described as a week that "aims to celebrate the Des Moines area's growing craft beer scene," events include the Iowa Craft Brew Festival, a meet the brewers night and beer sensory workshop.
More information can be found at exilebrewing.com and dsmbeerweek.beer.