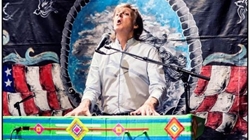 Famed British performer Paul McCartney plans to return to the Iowa Events Center this summer for a one-night only concert, his second ever in Des Moines.
In case you didn't already know: Paul McCartney is performing in Des Moines on Friday, as part of his "One on One" summer tour.
So it's only fitting that July 21, 2017, is declared "Paul McCartney Day" in Polk County.
Polk County Auditor Jamie Fitzgerald tweeted a photo of the proclamation at the Board of Supervisors meeting Tuesday morning.
McCartney, 75, is a storied songwriter and famed member of The Beatles. He is an 18-time Grammy Award winner and has sold an estimated 700 million records worldwide with The Beatles, Wings and through solo efforts.
Friday will be McCartney's third performance in Iowa. He first performed in 1990 at Jack Trice Stadium in Ames and again in 2005 at Wells Fargo Arena.
Source: Des Moine Register