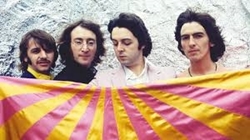 Todd Rundgren may be on the phone to draw attention to an all-star tribute to the Beatles' "White Album" on which he'll share a stage with Micky Dolenz of the Monkees, Joey Molland of Badfinger, Christopher Cross, and Jason Scheff of Chicago.
But that doesn't mean he has to like it.
And by "it," I mean "The White Album."
"I make no bones about it," Rundgren says.
"I think it's a contender for the Beatles' worst album. And it's not necessarily a judgment about the music on it. I'm talking about a Beatle album, not a bunch of half attempts at solo albums, which is what 'The White Album' is. So as a Beatle album, it's terrible. Very rarely do all four of them play at the same time on the record. Having said that, it was a great start for a George Harrison solo record."
Rundgren laughs, as he does often in the course of casually dismissing one of rock's most celebrated albums with a disarmingly playful irreverence that couldn't be more charming.
Source: Ed Masley/azcentral.com