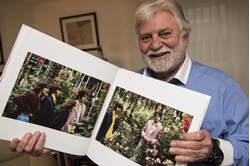 Tom Murray is not surprised to see his photographs turning up on the internet but they are not usually connected with major drugs dealers.
Bury St Edmunds town councillor Tom was a photographer with the Sunday Times Magazine in the 1960s, photographing many stars and top people, including The Beatles.
It seems a collectors set of his 1968 Mad Day Out colour prints of the fab four had appealed to an Irish drug dealer, who had been arrested with 60kg of cocaine so the pictures were auctioned last week in Belfast with other illgotten gains including luxury cars, Rolex watches, horses and Gucci shoes.
Tom said: "I don't know whether to be flattered or what! He obviously had good taste. He had a complete artist's proof set, number 11 of 19."
Tom says individual prints like this have gone for £3,000 to £8,000 but the auction raised about £10,000 for the set of 23. "If someone was clever they should have bought the whole set – you'd never get a set for that now."
Source: Bury Free Press