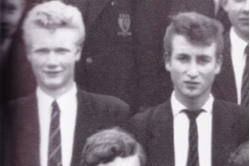 Tributes have been paid to Pete Shotton, the best friend of John Lennon, who has died aged 75.
It is thought he died from a heart attack at his home in Knutsford, Cheshire and funeral arrangements are currently being made.
Pete attended Dovedale Primary School and Quarry Bank High School alongside the future Beatle, and he later joined John – as a washboard player – in The Quarrymen. At school the inseparable friends came to be known as "Shennon and Lotton" or "Lotton and Shennon."
Pete, with the financial backing of his long-time friend, bought a supermarket in Hayling Island, near Portsmouth, and later founded and built up the successful Fatty Arbuckle's chain of restaurants, which he sold in the early 2000s. Pete was the co-author of John Lennon: In My Life, which was published in 1983, and later republished as The Beatles, Lennon and Me.
He remained close to John during The Beatles' heyday, and his step son, Phillip Gouldbourn, told the ECHO: "One thing he was really proud of was that he was at times the only person, outside The Beatles and the producer, engineer and technicians, who was allowed in the studio with the band when they were recording."
Pete, who had a son, step son and two grandchildren, even enjoyed a songwriting role with the Fab Four. He contributed to the 1967 song I am The Walrus after visiting John at his home, Kenwood, in Weybridge, Surrey.
By: Paddy Shennan
Source: The Liverpool Echo