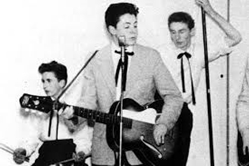 It was perhaps prophetic The Rose Queen was paraded on a float that bright July day.
Picked from a local Sunday school, ribbons and homemade roses in her hair, she perched shyly on her throne and waved regally to the merry residents assembled along the streets of Woolton, Liverpool, on July 6 1957.
Following less elegantly was another float, an old coal truck, with a raggle taggle band of schoolboys playing instruments and singing loudly on its trailer.
One young lad sat with his skinny legs in drainpipes dangling off the back, strumming his guitar and blasting out his tune.
This was skiffle band The Quarrymen, and that was John Lennon, en-route to entertain visitors at Woolton's St Peter's Church summer fete – and unbeknown to him, make history.
Source: Emily Retter/mirror.co.uk