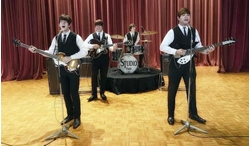 There is no better way to while a winter weekend away – unless you count the holes in Albert Hall – than attending the second annual Beatles Weekend this coming Friday and Saturday (Jan. 29 and 30) at the Spire Center for Performing Arts in downtown Plymouth.
Need a little nudge? Well first, it will be nice and warm inside the Spire, and it has a great sound system and a spectacular line up of local favorites, national experts, full-on imitators and talented musicians all paying tribute to the Beatles.
There will also be great food, beer on tap, fascinating memorabilia and a chance to stage your own mini Magical Mystery Tour.
The fun begins Friday evening at 6 with a showing of the world's first full-length music video, the Beatle's film "A Hard Day's Night."
At 9:30 Friday night the live music starts with Plymouth's own Fab Four – give or take – 3rd Left! 3rd Left's Brian Hitchings kicked off last year's weekend with a unique take on "Blackbird," and this year the band has put together an entire set from the Lennon-McCartney songbook. Diehards can hang on after 3rd Left finishes and watch the extravagant psychedelia of the second Beatle's film, "Help." At noon Saturday the doors open for the film "Yellow Submarine," and at 2 p.m. Scott Damgaard and 67 to 70 kick off a musical set dedicated to that intensely creative period of the Beatles.
By: Frank Mand
Source: Plymouth Wicked Local