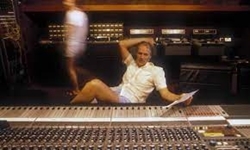 Producer and arranger George Martin had been the true "fifth Beatle".
He had taken his background in performance and arrangement and brought to The Beatles ways of making a recording studio respond that had never been properly explored before. Martin made the Beatles into a better band, and they, in turn, made Martin into a greater producer and arranger than he might otherwise have become.
But, by the end of the 1960s, Martin and everybody around him needed a break, from the work – and each other.
The Police's Andy Summers, Sting, Stewart Copeland recorded two albums at AIR Montserrat, despite barely being able to be in the same room as each other.
Source: Graeme Tuckett/stuff.co.nz