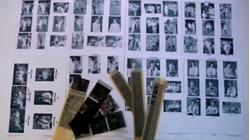 An unreleased track by Beatles guitarist George Harrison is to be auctioned along with a series of unseen images of the band.
The secret 1968 song, Hello Miss Mary Bee, comes on a reel-to-reel tape which also includes alternative recordings of several Beatles hits.
Unheard by fans, the Indian-influenced track was written for Harrison's good friend Mary Bee and produced around the time of his first solo album, Wonderwall Music.
It comes with letters from Harrison to Miss Bee while he was in India with wife Pattie Boyd.
In one extract, Boyd writes that Harrison has "just come into the kitchen singing Mary Bee, Mary Bee about to make a lovely cup of tea".
The tape and messages are expected to fetch around £15,000 as part of Omega Auctions' Beatles Memorabilia sale in Warrington, Cheshire, on September 11.
Source:ITV.com