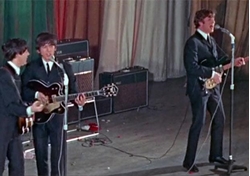 Ron Howard's 2016 documentary The Beatles: Eight Days a Week offered an unprecedented look at the group's touring years from 1963 through 1966. Among the many rare snippets was color footage recorded at a November 20, 1963, date at the ABC Cinema in Manchester, England. That clip is a Beatles fan's dream. High-quality color footage of the group from before its February 1964 arrival in the U.S. is hard to come by. What's readily available is mostly in black and white and often has poor audio quality.
The Manchester clip is an exception. It was created by Pathé News for the short feature The Beatles Come to Town and features performances of "She Loves You" and "Twist and Shout." The film was shot in Technicolor and Techniscope (a budget widescreen process from the period) and features good-quality audio. Even without the benefit of modern restoration, it makes for enjoyable viewing. The film was originally shown in British theaters during the week of December 22, 1963, as a preview to the daily feature.
While it's great to see the ABC Theater footage restored and included in Howard's film, the performance of "She Loves You" is broken up with additional documentary clips that obscure the song's final verse and chorus. Eight Days a Week also omits the additional footage from the original six-and-a-half-minute newsreel, including the theater preparations and the Beatles chatting with photographers. Fortunately, The Beatles Come to Town is available in its entirety on YouTube.
By: Christopher Scapelliti
Source: Guitar World