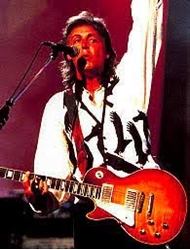 Paul McCartney almost always appeared with the Beatles playing a bass: typically either a Höfner 500/1 or Rickenbacker 4001S.
But from the earliest days of his long musical career, McCartney was drawn to the guitar, reaching for a six-string in the studio with the Beatles and Wings, as well as on solo recordings.
In this gem from the GP archives, Macca discusses how he ended up playing bass in the Beatles, the tortoise and hare race of melody versus speed, and why he likes heavy metal.
The following interview extract originally appeared in the July 1990 issue of Guitar Player…
Source: Tom Mulhern, Rod Brakes/guitarplayer.com