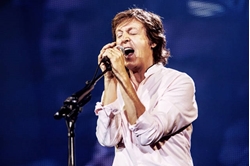 For a knighted pop singer with a career stretching nearly 60 years, Paul McCartney seems like such a normal person.
The most scandalous thing I could find on TMZ was a video of him getting rejected alongside Beck at the doors of a club.
I read his latest interview with Rolling Stone and couldn't help but notice how cooly the 75-year-old performer dissected The Beatles' legacy.
"We always tried to be the best band in Liverpool," McCartney told the magazine. "Then we tried to be the best band in England. Then we tried to be the best in the world."
There's only a handful of musicians who could say something like that without appearing arrogant. McCartney's reflection on his mop-topped phase sounds so matter of fact, and there was very little precedent for what The Beatles did in their touring years. Those suits, songs and the resulting screams are the building blocks of arena tours and today's high-profile music entertainment.
The newest leg of the "One On One" tour lands in Oklahoma City on Monday and marks Sir Paul's return to the Chesapeake Energy Arena roughly 15 years after he helped open the downtown venue. He'll play nearly 40 songs over the course of three hours, a feat he'll accomplish without even taking a break for water.