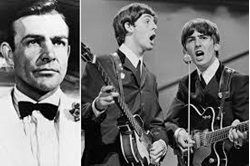 Early followers of counterculture in the U.K. enjoyed a notable day on Oct. 5, 1962. That's when the Beatles' first single, "Love Me Do," was released; it's also the day the first James Bond movie, Dr. No, opened in theaters.
Both would have an impact on global culture in the years that followed, with the Beatles representing a new form of musical expression while Sean Connery's 007 pioneered the attitudes of the sexual revolution.
But it wasn't all plain sailing – especially when the suave spy dissed the Fab Four two years after their arrival.
In a scene from Goldfinger in 1964, Bond is entertaining a woman in a bedroom when he realizes their champagne has become too warm. As he fetches a replacement, he explains, "My dear girl, there are some things that just aren't done, such as drinking Dom Perignon '53 above the temperature of 38 degrees Fahrenheit. That's as bad as listening to the Beatles without earmuffs."
Source: ultimateclassicrock.com