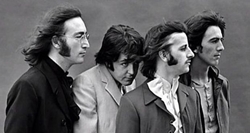 A short chapter in Dublin's musical history will be commemorated next month when a plaque marking The Beatles' first, and only, appearance in Ireland is unveiled at Arnotts.
The band played two shows at what was then the Adelphi Cinema, Middle Abbey Street, on November 7th, 1963. Their debut album Please Please Me came out earlier that year and by November the newspapers were already reporting on the first flushes of Beatlemania: "It's happening everywhere" declared the Daily Mirror.
If The Irish Times of the day failed to recognise the musical significance of the band, it succeeded in providing extensive coverage of Ireland's only exposure to Beatlemania.
"Many arrested as city crowds riot" ran the front page headline on November 8th, accompanied by a photograph of a crowd of young people breaking through a police cordon on O'Connell Street. The paper referred to them throughout as "Beatle 'fans' " , with the word fans usually in quotation marks.
Source: irishtimes.com