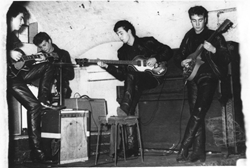 We were greedy for our fix of non-stop beat music. The club didn't look like much from the outside. After dodging the lorries deliver­ing fruit to the Fruit Exchange opposite and the lunchtime shoppers, we queued to get in through a small door in the wall of a towering brick warehouse at 10 Mathew Street.
Once inside we descended a steep flight of well-worn stone steps to a small landing, where a few more steps led to a man seated at a small wooden table taking the entrance fees. I paid an extra shilling to become a member of the Cavern Club entitling me to an admission discount at each visit — which in my case was most days. The heat and noise would send your senses reeling as you stepped through those cellar arches. It was enthralling and unbearably hot.
The Cavern's identity began to change at the start of the new decade. Rock & roll slowly replaced jazz and the Cavern became the heart that gave Mersey its beat. We watched the Beatles debut at the Cavern at the lunchtime session on February 9th, 1961. We were blown away. The Beatles were different, their music was incredible, their appearance raunchy, their energy infectious. They just oozed excitement.
Six weeks later on the 23rd of March, after a lunchtime session at the Cavern, they jumped on a train at Liverpool's Lime Street station on their way to Hamburg for the second time, having previously played there in 1960. This time they sped off out of our lives for four months. We missed them but still went down to the Cavern to watch other groups, like Gerry and the Pacemakers, the Swinging Blue Genes, the Remo Four, the Big Three, Kingsize Taylor and the Dominoes, and many more. They were all fabulous groups but they weren't the Beatles.
By: Peter Stansill/Debbie Greenburg
Source: Cuepoint