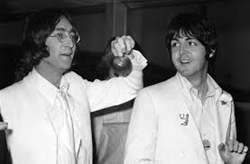 If you were at Paul McCartney's 1969 marriage to Linda Eastman, you'd have noticed someone conspicuously missing — John Lennon. Actually, considering none of Paul's Beatles bandmates attended, maybe John's absence wasn't so surprising.
About a week later, it was John's turn to tie the knot with Yoko Ono. (They did so in Gibraltar.) Because of the runaway nature of John and Yoko's nuptials, you didn't find Paul (or anyone else) in attendance there, either.
After John and Yoko had their marriage certificate, they headed to the Amsterdam Hilton to stage their first "bed-in for peace." If you've heard "The Ballad of John and Yoko," you know most of this story.
Source: cheatsheet.com