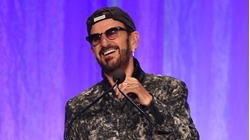 Ringo Starr may be 78, but the legendary musician isn't about to stop rocking out anytime soon.
"Someone at the press line today said, 'What, you're still doing this?'" the former Beatles drummer said. "They say that all the time to me. I'm still doing the tour…That's what I do, you know. I'm not an electrician."
Starr was honored Thursday night during the Paley Honors: A Gala Tribute to Music on Television.
During his speech, Starr acknowledged the power of television, and especially the "Ed Sullivan Show," in launching Beatlemania in America, with "over 70 million people" watching the band's 1964 performance on the program. "They said there was no crime while we were playing. How far out is that?" Starr remarked.
Motown founder Berry Gordy gave a tribute at the event to Michael Jackson, recalling the late King of Pop's legendary performance in 1983 on Motown's 25th anniversary show on NBC.
"From the first beat of 'Billie Jean' and the toss of his hat, people were mesmerized. But when he did the iconic moonwalk, it was pure magic. That was the night that he and his career went into orbit and never came down," Gordy said.
Source: Rachel Yang/variety.com