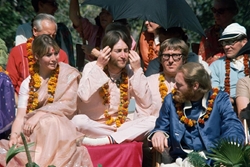 All you need to do is say this little word.
I know it sounds absurd but it's true.
The magic in the mantra will give you the answer.
And swallow this that's all you gotta do. So recommends the "Happy Rishikesh" song of The Beatles. The Beatles did swallow the mantra but whether and to what extent they got the answer is the moot point.
But one thing is for sure - their visit to Rishikesh to meditate in Maharishi Mahesh Yogi's ashram from February to April in 1968, 50 years ago, was transformative in many respects. The beginning of The Beatles' end began in the sylvan foothills of the Himalayas.
Later that year, they released the White Album - a double album in white sleeves with nary a graphic nor a text save the band's name embossed on the cover. The recordings began in May.
The album cover was as dramatic in its simplicity as its predecessor Sgt Pepper's Lonely Hearts Club Band's was with its vivid colours and razzmatazz. The music reflected this simplicity and, as with the cover, stood out in stark contrast to the earlier offering. While Sgt Pepper's was fuelled by LSD, the White Album was inspired by marijuana - most likely sourced locally.
Source: dailyo.in