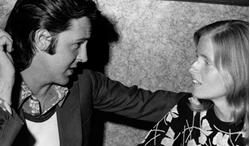 Liverpool's most popular museum, The Beatles Story, recently asked any "Fab Four" fans celebrating their 64th birthday in 2017 to contact them. It's 50 years since the first song the Beatles recorded for their iconic 1967 album, Sgt Pepper's Lonely Hearts Club Band, was completed.
George Martin (the band's legendary producer) called When I'm Sixty-Four the album's "jokey song", a classic counterpoint to George Harrison's sombre, spiritual and sitar-influenced Within You without You which started Side Two. Yet Paul McCartney's jaunty, music hall melody now causes more angst and introspection than any of the other more exulted tracks on the album.
Why? Because Baby Boomers regard it with special dread.
If you had the misfortune to be born in the 1950s, celebrating your 64th has become far more gut-wrenching than your 60th ever was. Or your 65th could ever possibly be. As a rite of passage, it's simply the pits. Search the web and you'll find entreaties from both sexes complaining about the pressure they felt. Some post photos of themselves looking hot. Subtext? "Be honest – does my backside look 64 to you?"
Others – mostly divorced, as McCartney has been – insist they're perfectly happy to celebrate their 64th alone. Either with a bottle of decent red, a pedicure and a good book or with a malt whisky, a good steak and a game of footy on the TV.
By: Steve Meacham
Source: Financial Review