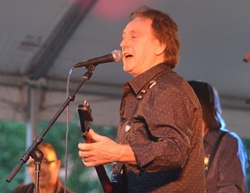 Forty years ago, Paul McCartney and Denny Laine toured America as part of Wings, bringing classic songs such as "Band On The Run" and "Jet" to life. On Sunday night, Laine and his own band will bring those songs to audiences once again, performing the album in its entirety at the Iron Horse Music Hall.
"The show is the 'Band On The Run' album plus another nine numbers that I'm associated with outside the album" said Laine, who wrote his first hit song, "Go Now," with the Moody Blues in 1964 and co-wrote Wings hit "Mull of Kintyre" with McCartney in 1977. "There will a couple 'Moodys' in there, some other Wings material from other albums and sometimes I'll put acoustic songs in the middle and play what comes to mind," he said.
Laine said that being the 40th anniversary of the band's "Wings Over America" tour – coupled with feedback he received from various clubs – it felt appropriate to bring the album's music to life once again – but a creative twist courtesy of Laine, who together with McCartney, recorded the entire album themselves.
"The thing about 'Band On The Run' was that it was just Paul and I," said Laine, citing the group's six-week recording session in Lagos, Nigeria just one week after guitarist Henry McCulloch and drummer Denny Seiwell abruptly left the band.
"Some songs will have a different 'feel' and I'll be playing more up-to-date versions of a few numbers. It's something I like to do in my own way, without going too far," he said, adding that he'll be backed by two guitars, keyboards and a rhythm section as opposed to the album's grandiose orchestral arrangements.
By: Chris Dondoros
Source: Mass Live