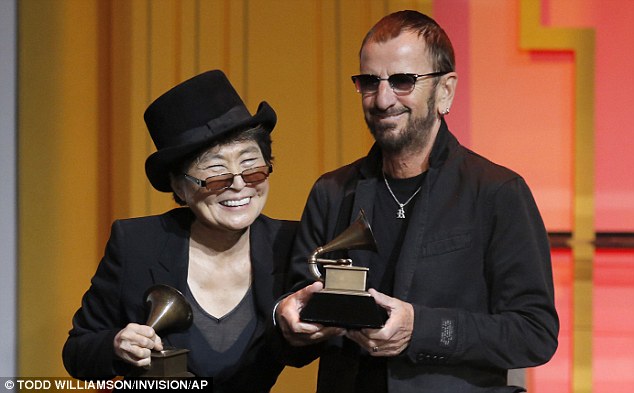 She was once blamed for the break-up of The Beatles and it was said that Yoko Ono was resented by her former husband John Lennon's bandmates. But nowadays, Yoko is rather chummy with the likes of Ringo Starr, and the pair showed what good friends they are at an event on Saturday.
The Beatles are being honoured with a Lifetime Achievement Award at the 2014 Grammy Awards and Ringo looked quite exuberant in light of his recognition. The 73-year-old attended the Special Merit Awards Ceremony in Los Angeles and sat next to Yoko. The former Beatles drummer went for a typically edgy look in an all black ensemble consisting of a jacket, shirt, and jeans. Ringo, who was looking incredibly youthful, dressed down his look with trainers that boasted red laces. Ringo accessorized with a silver pendant around his neck and a pair of sunglasses. Meanwhile the 80-year-old former wife of John Lennon channeled androgynous chic in a form fitted black blazer paired with sleek black pants, and a top hat to top it off. She too topped off her look with sunglasses - and was seen wearing large round ones as well as a narrower rectangular cut ones.
Read more on this story........
Source: The Daily Mail, UK
Photo Credit: Todd Williamson/Invision/Ap