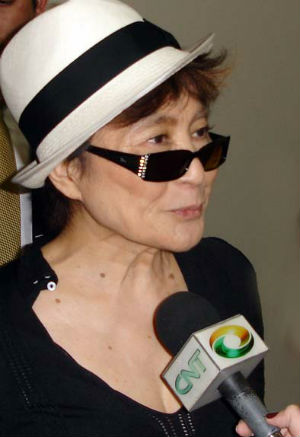 Yoko Ono has been awarded a German human rights prize for peace activism with her husband, John Lennon, as well as her more recent work championing gender and marriage equality.
Ono picked up the Rainer Hildebrandt Medal at Berlin's Checkpoint Charlie Museum, next to the former Cold War border crossing.
Said Yoko: "I'm very honoured to get this award and I will consider this award as an encouragement to do more work in humanitarian causes."
Hildebrandt, who died in 2004, founded the museum to document daring attempts by East Germans living under communism to escape over the Berlin Wall and in protest against the regime's shoot-to-kill policies.
His widow Alexandra handed Yoko the award--which was selected by a jury she said included German President Joachim Gauck, former US secretary of state Henry Kissinger and former German foreign minister Hans-Dietrich Genscher.
"Since the early days of her career, and in addition to her music and conceptual art, Yoko Ono has always drawn attention for her political statements and her fight for peace and human rights," the jury said. "She is a great proponent of gender equality, and is committed to world peace and the recognition of same-sex partnerships."
For more on this story: Full Story