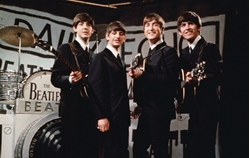 We've got a ticket to play!
Visitors to a Beatles-themed cafe in Liverpool will soon be able to play the world's first and only official pinball machine dedicated to the Fab Four.
The Beatles and Stern Pinball have joined forces to create a series of US-made, limited-edition pinball machines, with the first of its kind debuting at The Beatles Story's Fab4 Cafe.
Read more: The Beatles' 'Abbey Road': 10 perfect moments that give you goosebumps
Only 1,964 of the games will be produced in recognition 1964: the year when Beatlemania kicked off, The Guide Liverpool reports.
Nine Beatles classics will feature on the machine in the cafe, which will be available to play for £1, including: 'A Hard Day's Night', 'Can't Buy Me Love', 'Ticket to Ride', 'All My Loving', 'Help', 'Drive My Car', 'It Won't Be Long', 'I Should Have Known Better', and 'Taxman'.
Source: Charlotte Krol /nme.com