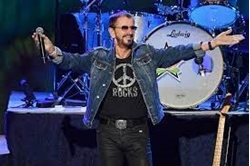 In 1964, The Beatles' John Lennon, Paul McCartney, George Harrison and Ringo Starr crossed the pond to perform in the United States for the first time.
What followed was an unprecedented level of fanaticism as Beatlemania took hold of America.
Now, a mere 59 years later, 83-year-old drummer Ringo Starr is still out and about on the road with his All Starr Band made up of classic rock icons from Men At Work, Toto, The Edgar Winter Band and more this fall.
However, it appears Beatlemania has subsided a bit; some tickets are shockingly cheap to see the Rock and Roll Hall of Famer live in 2023.
At the time of publication, we found some tickets going for only $8 before fees on Vivid Seats. Yes, there are somehow tickets under $10 available to see one of the two living Beatles live.
Prices for most other shows start anywhere from approximately $45 to $210 before fees.
Source: Matt Levy/nypost.com